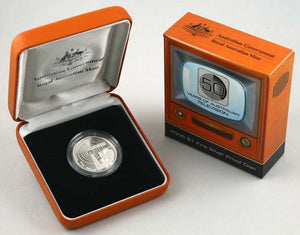 Australian Specialty Coins
2006 Fifty Years of Australian Television $1 Fine Silver Proof Coin
Regular price
$49.00
$0.00
Unit price
per
Tax included.
2006 Fifty Years of Australian Television $1 Fine Silver Proof Coin
On the evening of September 16, 1956 crowds gathered outside department stores and in homes across Australia to witness the momentous event when TCN-9 flickered into life with the famous words "Welcome to television" uttered by Bruce Gyngell.
Television sets cost three times the monthly wage in those days and only about 2,000 homes in Australia's biggest city had one on opening night.
In the 50 years since its appearance in Australia, TV has become the most popular and the fastest means of getting up-to-date news and entertainment.
From seeing the first man walk on the Moon to experiencing events as they happen here and overseas, television has linked Australia to the world and played a large part in the development of Australia as a nation.
---
Share this Product
---