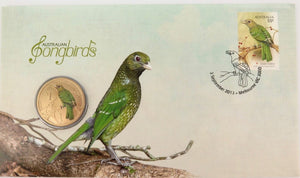 Australian Specialty Coins
2013 Australian Songbirds $1 PNC
Regular price
$15.00
Sale price
$15.95
Unit price
per
Tax included.
2013 Australian Songbirds $1 PNC
The Perth Mint and Australia Post are pleased to present a delightful Australian Songbird coin and stamp featuring a Green Catbird. The Green Catbird (ailuroedus crassirostris) belongs to the Bowerbird family, but it does not build the elaborate courtship structures for which Bowerbirds are renowned.
It was given its common name for the wailing catlike call that is issues to mark its territory. Both males and females sporadically offer this rasping cry, calling in chorus at the beginning and end of the day. Issued as legal tender under the authority of the Government of Tuvalu, the uncirculated aluminium bronze coin is housed in a beautifully designed card that fits inside a similarly illustrated envelope with a circular window revealing the coin's reverse and obverse designs.
The coin's revers features an irresistible image of a Green Catbird perched on a branch. The design also features the inscription GREEN CATBIRD AILUROEDUS CRASSIROSTRIS and $1.
Affixed to the envelope is an official Australia Post 55c stamp. The stamp is postmarked for the first day of issue and the envelope includes Australia Post's Seal of Authenticity and official number.
---
Share this Product
---