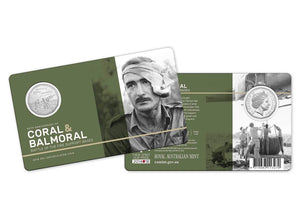 Australian Specialty Coins
2018 Coral and Balmoral 50c - Battle of the Fire Support Bases
Regular price
$16.00
$0.00
Unit price
per
Tax included.
2018 50c Uncirculated Coin Coral & Balmoral - Battle of the Fire Support Bases
Some of the most intense fighting experienced by Australian Forces during the Vietnam War occurred at Fire Support Bases Coral and Balmoral between May and June 1968. The Australians successfully held both bases, but at great cost. The Royal Australian Mint proudly commemorates the 50th anniversary of these events with a striking uncirculated 50 cent coin.

HISTORY AND SIGNIFICANCE

During the "Mini-Tet" offensive mounted by the Viet Cong and North Vietnamese forces in May 1968, the 1st Australian Task Force deployed two battalions to an area 20 kilometer's north of Bien Hoa city. The Australians established a number of fire support bases to provide firing points for artillery and mortars. These could cover foot patrols carried out by the infantrymen of 1RAR and 3RAR.
One of these bases was Fire Support Base Coral; which was attacked several times between 13 and 22 May. In the first attack, the 1RAR mortar platoon position was overrun. With extensive air support, the attack was beaten off and the gun-pit recaptured. On 26 and 27 May the enemy attacked Fire Support Base Balmoral, but on both occasions were driven off by troops from 3RAR, supported by Centurion tanks.
When the fighting ended, 25 Australian soldiers had died and over 100 were wounded.
FEATURES AND DESIGN

Packaged in a display card with historical information about the Battles of Fire Support Bases Coral and Balmoral
Coin's reverse features a depiction of two soldiers manning a M2A2 Howitzer, along with a Centurion tank and Iroquois helicopter
Coin's obverse features the effigy of Her Majesty, Queen Elizabeth II sculpted by Ian Rank-Broadley
Australian legal tender
---
Share this Product
---