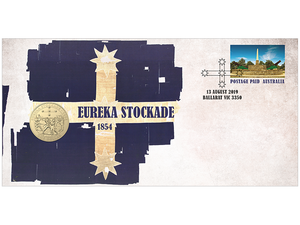 Australian Specialty Coins
2019 Eureka Stockade $1 PNC
Regular price
$24.95
$0.00
Unit price
per
Tax included.
2019 Eureka Stockade $1 PNC
The Eureka Stockade, Australia's only armed civil uprising, represented an important step towards the formation of our democratic system of government.
On 30 November 1854, miners from the Victorian town of Ballarat, disgruntled with the officious and corrupt goldfields administration, swore allegiance to the Southern Cross flag at Bakery Hill and built a stockade at the nearby Eureka diggings.
Diggers' demands included the franchise, representation in parliament and a gold export tax in place of onerous gold licenses. At dawn on 3 December, government troops attacked, leaving somewhere between 22 and 60 diggers and five soldiers dead.
When the Eureka rebels were tried in Melbourne in early 1855, juries refused to convict any of them. As a result of the rebellion, all the miners' demands were met.
The licence fee was replaced by an export duty on gold and a Miner's Right, and the miners were eligible to vote. The goldfields won the right to parliamentary representation and rebel leader Peter Lalor was elected to represent Ballarat in the Legislative Council.
---
Share this Product
---